In November 1990, Congregation Beth Shalom received a special Torah through the generosity of Bea and Sydney Laub (z'l) and the Leibowitz Fund.
The Sefer Torah Number 337 which is housed in our Levin Chapel is one of the 1564 Czech Memorial Sifre Torah which formed part of the treasures which were saved by being collected in Prague during the Nazi occupation 1939 - 1945 from the desolated Jewish communities of Bohemia, Moravia, and Silesia, and which then came under the control of the Czechoslovak Government for many years.
Come hear more about our special treasure and register for the Zoom presentation.
You can also learn more about our Memorial Scroll on our webite, by clicking here.
For more information, contact
Gary Harad,
Rabbi Jacob Kraft Educational Foundation Chair
rjkef@cbswilmde.org.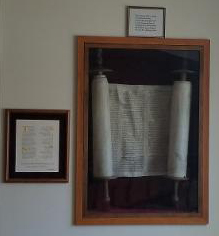 Wed, November 30 2022 6 Kislev 5783